St. Lawrence River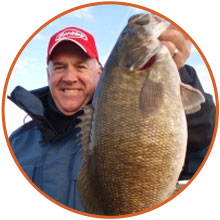 Starting at the mouth of Lake Ontario the St-Lawrence River has hundreds of miles of fishable water. Along its travels there are a series of lakes such as Lake St-Francis, Lake St-Louis and eventually Lake St-Pierre. This river system has some of the best smallmouth fishing for both size & numbers. Tournament fishermen look forward to competing in events each season, in anticipation of these giant smallies!
Within minutes from Montreal, a spectacular view can be seen of the city as you battle bass in the currents of the mighty St-Lawrence River! If you thought these bronze beauties fought hard, wait until you feel the power they produce in fast water. From top to bottom, there's a place for all to enjoy their favorite techniques. Catch Smallmouth Bass in size as well as numbers throughout the St-Lawrence River, all season long!
Lake St. Louis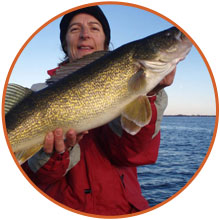 Less than 15 minutes from downtown Montreal, Lake St-Louis is the perfect choice for travelers to experience great fishing. It hosts a variety of freshwater species to be caught. Walleye & Pike start the season off in May and high number days are the norm. Trolling for them can be the most productive as they are usually spread out over vast areas of the lake after the spawn. Plenty of quality fish, along with some real trophies make up average 50 fish days in spring. Smallmouth and Largemouth Bass are also plentiful come mid June when our season opens. As with the pike & walleye, the bass fishing is just spectacular! Under the right conditions, you can expect high numbers as well. Top water, jigging & everything in between yield huge numbers & size all day long! Whether fishing rocks or new weeds, these aggressive fish will test your angling skills to the max.
From the novice fisherman to the most experienced, this lake will satisfy everyone. Multi species days are common and "Grand Slams" occur frequently with anglers landing all three. Summer & fall blend nicely, keeping the numbers above average once again. Although adjustments need to be made due to seasonal movements, the fishing remains phenomenal. Deep water drop shotting along with some shallow presentations for the more aggressive bass mix the day up equally well. For the real enthusiasts, the hard water period provides good fishing for walleye, pike & perch, making this an excellent year round fishery.
Lake St. Francis
Beginning in the Thousand Islands region off Lake Ontario, Lake St-Francis is a Seaway Route. It travels well over one hundred miles through cities and Locks until it arrives in the Valleyfield, Beauharnois region of the lake. Approximately 30 minutes from Montreal, excellent bass fishing occurs for both species. Sight fishing giant smallmouth on sand flats in shallow water is comparable to saltwater flats fishing for bonefish. Huge, black silhouettes cruise these areas in search of an easy meal and fish of four to five pounds are a daily occurrence. Deep water drop shotting on rocky shoals can produce high number days along with some real trophies as well. With the "Goby" being a major forage, these brown bass have grown amazingly fast and fish over 7 pounds are definitely possible! Largemouth occupy their typical areas and can be found tucked in tight to cover in the many back bays on this lake. Shallow water slop fishing can produce giants over 6 pounds on a variety of baits. Plenty of cover allows many techniques to be used to catch these green fish.
Fall fishing can be the most spectacular of all as high number days of quality smallies are common. A variety of presentations are used from aggressive spinnerbaits to slowly dragged drop shots and tubes. All work equally well at specific times! This fishing can last well into November and some years even December. In the last few years, this lake has grown to become a favorite amongst the tournament angler. Twenty pound plus stringers are frequently weighed in for a single days catch and a fifty pound bag for two days, will be coming soon! To say this lake is a great smallmouth fishery would be an understatement. I like to refer to it as our "Little Lake Eerie"!
Lake Memphremagog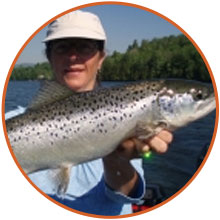 Lake Memphremagog is an international waterway, located mostly within Canada. At only 70 miles east of Montreal, it straddles the Vermont, U.S. border. This shared lake is the crown jewel of the Northeast Kingdom.Although most of the 25-mile long lake is in Quebec, 5,966 acres extend into Vermont, making it second to only Lake Champlain as the largest water body in the state. "Magog" as it is locally called, is a tremendous two tier fishery. Early ice out fishing in April/May for trout & salmon yields plenty of action up high on the fly. With cold water temps, these fish feed heavily on the smelt & fly rods trolling streamers can be spectacular. It has an excellent smallmouth bass population and its shallow bays support largemouth bass as well.
With an over abundance of baitfish, namely Smelt, its no wonder why so many bass congregate on the numerous offshore shoals that inhabit this lake. With their food constantly moving, these shoals provide ambush areas, bringing many meals to them. Little energy is exerted on the part of these fish, until fooled by baitfish imitations by the angler. Throughout the season, this lake yields excellent catches of football like bronze beauties that will test the angling skills of even the most experienced.
Missisquoi Bay (Lake Champlain)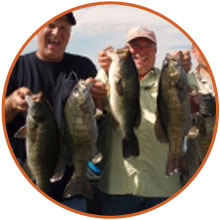 Located at the northern end of Lake Champlain, this lake-like bay has over 5 miles of fishable water before it reaches the bordering waters of Vermont. Both smallmouth & largemouth bass thrive in this shallow, stained environment. A variety of lures & techniques can be used to target these fish as well as the abundant northerns.
Pike up to 15 pounds have been taken in the fall as they move in to feed on huge perch schools. With a maximum depth of about 15 feet, catching mixed bags of these fish is a daily occurrence. By having plenty of cover such as; weeds, rock piles & docks, these fish remain shallow throughout the year, making them relatively easy to catch!
Lake of Two Mountains
Beginning at the Carillon Dam, Lake of Two Mountains flows South East approximately 28 miles where it links up with Lake St. Louis, and also joins two other rivers (Mille Isles & Des Prairie). Many different structure features make this lake a challenge to fish. With the majority of water less than 15 feet in depth, shallow rocks and weeds concentrate the smallies well.
Hidden underwater humps and shoals in deeper water lend introduction to "Deep Water Jigging" techniques. Being a stained to dirty water environment, top water can also be a great way present different lures. Explosive surface action strikes occur in shallow and deep water from these aggressive bass. Both smallmouth as well as largemouth are present here and it's not uncommon to catch them in the same day.
Ottawa River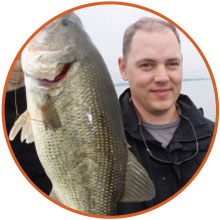 From our nation's capital (Ottawa) this river runs over 75 miles South East, bending and turning frequently, until it links up to Lake of Two Mountains, at the Carillon Dam.Well known for its healthy Largemouth Bass population, this river hosts many Bass Tournaments each season.
Traditional shallower cover such as; pads, stumps, trees and cattails, make this a flippin' & pitchin' paradise. Bass over eight pounds have been seen, with fours & fives caught on a regular basis. Healthy populations of smallmouth bass, northern pike, walleye and musky are also abundant within this phenomenal river system.